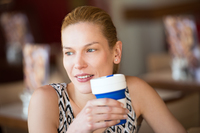 There's good coffee and bad coffee, but that's not the problem with coffee today eventhough 6% of Australians claim a bad coffee in the morning will ruin their day. Coffee statistics show that among coffee drinkers, the average consumption in the United States is 4.2kg of coffee per year and in Australia just over 3kg pa. Australia is ranked 42nd in the world for coffee consumption, Finland is #1. This consumption is increasing here each year because compared to the Europeans we are relatively new to sipping lattes. Australia "is now our fourth-biggest market in dollar terms, but we still see Australia as an immature market," Lavazza told Fairfax Media in an interview last January.
The real problem with coffee today is actually how we drink it. Coffee cups are now estimated to be the second largest contributor to litter waste after plastic bottles. We use 1 billion disposable coffee cups each year, did I mention this is increasing each year. 90% of these end up in landfill. Worse still many disposable cups have a thin layer of plastic so this is fast becoming a major pollution hazard.
What can you do about it…it's simple, don't take away!
There are now lots of reusable cups on the market and Stojo is one I came across recently having just arrived in Australia from the USA, what's different with Stojo is that it's a collapsible cup. That makes it handy to carry to around and store compactly when not using and out and about. Stojo is uniquely positioned in the category as it collapses down to a thin 4.4cm, so after you drink your coffee just squash it together and stick it in your pocket. It holds 355ml and comes with a screw on lid and is made from silicone so perfect for hot drinks. It is BPA free with no phthalates or glues used in the manufacture. You don't have to carry around a bulky coffee cup all day in your bag or hand to save the planet and do the right thing for the environment. They are easy to clean and dishwasher and microwave safe. Available in 6 colours for $19.95 check out www.stojo.com.au and be part of the solution.